There are many ways to maximize your money when selling your home. One of those ways is figuring out when it's the best time to sell a house. Timing is everything!
Did you know that 8 of the 9 best days to buy a home are during the summer months? As summer heats up, it also brings hot home prices in the real estate market. According to an ATTOM Data Solutions analysis of more than 28 million single family home and condo sales over the past 8 years, you'll be able to get higher seller premiums of up to 10% or more on the sales price by selling your home at the right time. So, if you're on the fence about selling your home, summer is a great time to take the plunge.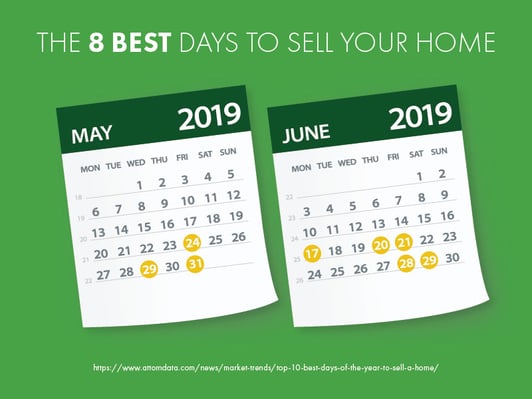 The months that saw the greatest seller gains were:
May (+ 7.4%)

June (+ 9.2%)

July (+ 7.3%)
Take advantage of buyer demand on these days this summer:
May 24: 10.5% Market Value Gained

May 29:

10.1% Market Value Gained
May 31: 10.7% Market Value Gained
June 17: 10.5% Market Value Gained

June 20:

10.6% Market Value Gained
June 21: 10.7% Market Value Gained

June 28:

10.8% Market Value Gained
June 29: 10.1% Market Value Gained
Now that you know the days that can help you make the most money, here are some tips for selling your house:
Stage your home

—Make your property stand out (in a good way) by staging your house to sell. Home staging can make a big difference in how fast your home sells, and if buyers can imagine themselves living there. Take the time to declutter and get rid of things that you don't want or need anymore. Spruce up the paint, do a deep cleaning, and make sure the yard is nice and neat (especially during these warmer months)!
Price it right—Make sure your house is priced competitively with similar homes in the area. Paying attention to what is going on in your local real estate market is crucial since many buyers will not even look at a home if it's priced too high. Compare the square footage, updates and upgrades, floor plans, and the style of the home.
List your house—You may decide to work with a real estate agent to list your home on the national MLS. At this point, you'll start to get requests to show your home to potential home buyers. Make sure your home is clean before each showing! Once you get an offer, you can negotiate the details with the buyer and schedule a date to close on your home.
Get the most money for your home
Your home is probably your largest asset, and everyone wants to sell their home for the most money. It's important to find that sweet spot in the real estate market to help maximize your return on investment. An easy way to keep track of the property values in your neighborhood and surrounding areas is by using HomeScout®. This app will help you know the right price point to list your home and quickly get it sold so you can get more bang for your buck (and will even help you find a new house if you're upsizing or downsizing).
Looking to buy after you sell?
Buying and selling at the same time is typically an easier balancing act in the summer months due to more inventory available. People are usually out and about when it's warmer which makes it easier to get the true vibe of the neighborhood, you're interested in. It's also a great time to check out amenities (like the pool or tennis court) and even get the chance to meet future neighbors.
To help you seal the deal even faster with your new purchase, become a Churchill Certified Home Buyer. This allows you to do a bulk of leg work upfront, making the home buying process quick and smooth once you've found the right home. You'll have peace of mind that your funds will be approved once it's time to sign on the dotted line.
Interested in making a move during the summer months? Reach out to one of our Home Loan Specialists today.
https://www.attomdata.com/news/market-trends/top-10-best-days-of-the-year-to-sell-a-home/