More than a Mission Statement
Everything a company does reflects its culture. It is so much more than a mission statement, a media kit, or stories of how the company came to be. It comes down to the way you do things at your company. And ultimately impacts everyone who interacts with the company—from employees, clients, and partners. While every business is different, it is important to find a good fit when working together.
When looking for a new job, or trying to find that extra trust factor when you need an expert to help you with a large investment (like buying or refinancing a home) it is important to feel comfortable and confident in what lies ahead.
One of our core convictions here at Churchill Mortgage is "people over profits." We have worked hard to build a culture where people come first. We have learned that when our employees are happy, they provide great service to our clients, and as a result everyone wins and feels valued.
The Start of Something Different
Churchill Mortgage was founded in 1992 by our current CEO and president, Mike Hardwick. It was the combination of growing up the son of a preacher alongside his financial and banking background that helped make Churchill Mortgage what it is today.
The Brentwood, TN branch became the first official brick and mortar location of Churchill Mortgage. Today, this branch (located at our Home Office) is led by District Manager, Kevin Watson. Over the past year, this branch has seen significant growth with an increase in loan volume of more than 70 percent. This branch paved the way for future Churchill branches to reach new growth and is expected to grow an additional 40 percent in the remaining part of 2020.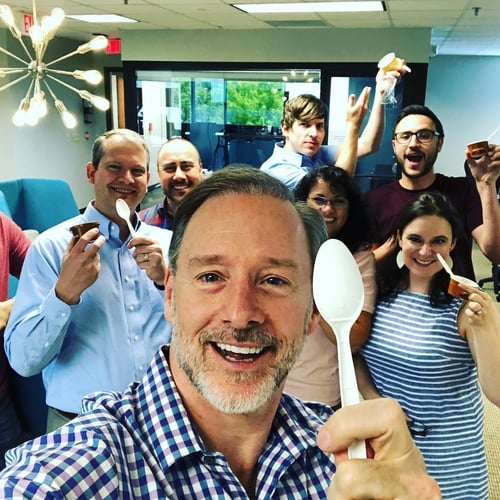 "Being part of a company like Churchill Mortgage is a once in a lifetime opportunity," said Kevin Watson, Middle Tennessee District Manager at Churchill Mortgage. "Helping our clients craft a plan to fulfill their long-term financial goals and the new American dream of debt-free homeownership is just one of the many ways we are able to prioritize people over profit, which is always a gateway to success. Churchill Mortgage is the last place I will ever work—I have found my home!"
The Brentwood branch currently has over 30 Home Loan Specialists licensed in 42 states, and regularly hosts ongoing Realtor® events for local real estate partners. These events range from happy hours, webinars, special guest speaker appearances, and luncheons. There are also opportunities to network and work as thought leaders in the housing industry by showcasing collaborative YouTube videos, social media, business insights, and marketing trends.
Whoever Is Closest to the Broom Sweeps
The Middle Tennessee Direct-to-Consumer branch is also based in Churchill's Home Office in Brentwood, TN. It has been led by the Director of Sales Conversion, Stephanie Christian since its opening in September 2019. Stephanie has been with Churchill Mortgage since the very beginning. She understands the ins and outs of the mortgage business and is a true example of what Churchill is all about. So much so, that the employees of Churchill Mortgage voted Stephanie as our Broomsweeper in 2018!
Each year, Churchill employees privately vote on which of their fellow co-workers should win the annual Broomsweeper Award, and the winner is announced at the Churchill Christmas party.
The term "broomsweeper" has been used at Churchill since its opening in 1992 and officially became an annual award in 1998. The idea behind it is whoever is closest to the broom sweeps. This simply means when there is a job that needs to be done, we do not check first to see if it is in our own personal job description, but we just do it. It's a great way to stop and encourage everyone at Churchill to think about what we can do for others, how we can make the lives around us better, who we can help, and to be patient with one another.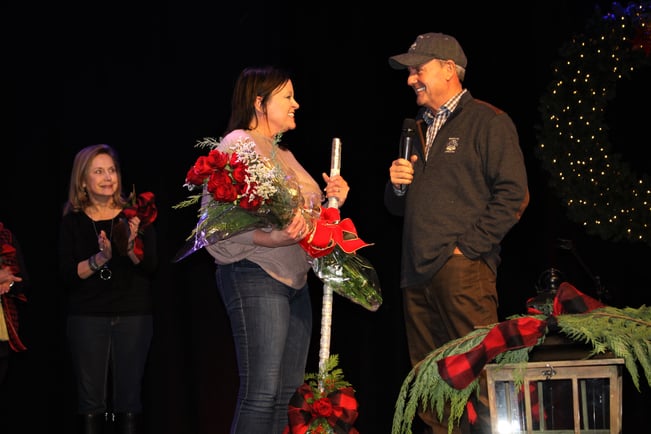 "Churchill Mortgage is an ideal workplace for any loan officer, underwriter, processor or administrative staff," said Stephanie. "Coaching clients on the path to achieving debt-free homeownership and financial freedom is one of the most enjoyable aspects of my work, and being able to do so through Churchill across our entire organization only serves to set us apart from other lenders."
With Stephanie at the helm, our Direct-to-Consumer branch continues to grow. Each Home Loan Specialist in this branch closes an average of $1.8 million per month. The branch as a whole serves about 100 families a month with their mortgage needs. The team has also recently expanded to offer additional services to Churchill's Spanish and Vietnamese communities.
Honored to Be a Top Workplace
We are proud to be recognized as a "Top Workplace" for the 8th consecutive year by The Tennessean. This award means a lot to us because it is based on our own employee feedback and celebrates employee-focused culture.
"Our goal has always been to cultivate a culture of support and appreciation for our greatest asset – our employees," said Mike Hardwick. "Without them, we would not be able to attain the incredible growth we have seen or offer our customers the unparalleled service we are known for. In fact, 2020 has been a record year for Churchill Mortgage. Being recognized as a top workplace is a great accomplishment and achieving this for eight consecutive years is a testament to our dedication to our employees' continued success."
The Heart of a Teacher
"At Churchill Mortgage, we always want to ensure our home buyers have peace of mind and support as they embark on the path to the real American Dream of debt-free homeownership. Kevin and Stephanie bring unique leadership styles that position our Home Loan Specialists for success in their careers as they learn to provide the mentorship and exceptional service we are known for," explained Mike Hardwick.
Churchill's employees are backed by world-class operations, compliance, and sales teams so our Home Loan Specialists can focus on mentoring our customers with the heart of a teacher throughout the home buying journey.
Have questions or want to chat about your goals and how Churchill Mortgage can help you? Click here to reach out to us today.
What Our Clients Have to Say
"Kevin made everything so easy and stress free for us! We were first time home buyers and had no idea what we were doing. He walked us through everything making sure we understood all the details. He and his team were always on top of everything and were able to get us the loan in less than a month! Kevin, Mary and Kelly were all so kind! We would recommend them to anyone we knew and would work with them again if ever need be! It was so nice working with." – David A., Franklin, TN

"Kevin made the entire experience from start to finish as effortless and enjoyable as possible. It was one of our first pleasurable introduction to the great state of Tennessee. He was extremely knowledgeable, friendly and trustworthy. All of his associates and business partners merit the same accolades." -Mitch and Dawn L., Spring Hill, TN

"Very professional, offered excellent advice, answered every question and helped me make informed decisions." – Jeremy B. for direct-to-consumer team, Cookeville, TN

"Churchill Mortgage was hands down an excellent company to work with. However, what made my personal experience exceptional was my loan officer, Diego Roca. He is such an amazing guy to work with. He went go above and beyond at any hour of the day to answer any questions I may have or to put my mind at ease in those 'tough' moments of buying a home. He made this process as peaceful as one can have when buying a home and stood with me until the very end. Thank you, Diego for everything!" – Ashley B. for direct-to-consumer team, Providence, LA
Join Our Team
The Churchill Mortgage Brentwood and Direct-to-Consumer branches are in the Home Office of Churchill Mortgage at 1749 Mallory Ln., Brentwood, TN. If you are interested in joining one of these teams, click here for more information.
Don't forget to follow us on Facebook and Instagram! To read other articles about Why Churchill, click here.