UPDATE: Due to the COVID19 pandemic, tax day has been moved from April 15, 2020 to July 15, 2020. This will give you an additional 90 days to file and pay your 2019 tax liability. This 90-day tax payment deferral is automatic when you file which means all interest and penalties will be waived during this time.
The 2020 tax season opened on January 27, 2020. The Internal Revenue Service (IRS) began accepting paper and electronic tax returns that day for the 2019 tax year returns. Whether you're expecting a big check from the IRS or if you're panicking because you owe money, here's what you can expect when filing your taxes this year.
Income Tax Brackets Slightly Increased to Accommodate for Inflation
We all see the impacts of inflation in our everyday spending—from groceries to housing. Fortunately, the IRS understands the need to change tax brackets to keep up the pace of the current value of the U.S. dollar.
So, how do tax brackets work? To put it simply, the U.S. government decides how much tax you owe each year by dividing your taxable income into sections (or tax brackets). Each section or bracket then gets taxed at the corresponding federal tax rate. Your entire income doesn't get taxed at this rate—just your taxable income.
As a refresher, taxable income (also known as your adjusted gross income) is the amount of your yearly income used to calculate how much tax you owe to the government in any given tax year. According to the IRS, income can be both earned and unearned.
Earned income includes the money that you receive from an employer in exchange for work or money you make working yourself. Keep in mind, this includes any bonuses, tips, commission, union strike benefits, etc. Unearned income (which is not taxable) is money you didn't directly work for.
For complete instructions on what is considered to be taxable and non-taxable income, click here.
Here's a cheat sheet to see the changes in the tax brackets from 2018 to 2019 for both single filers and those who are married and filing jointly.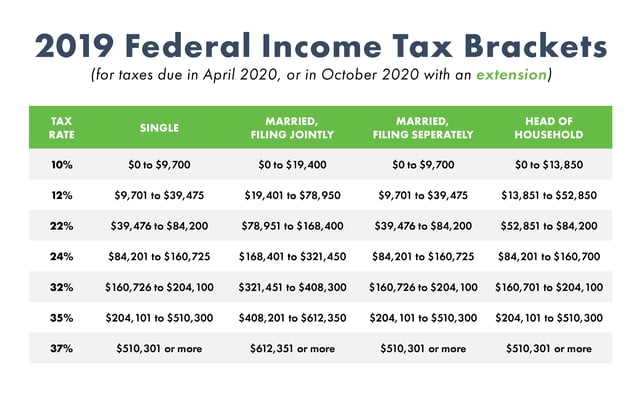 The Standard Deduction Increased
If your income or filing status hasn't changed you more than likely won't see much of a change from last year's taxes. When filing your taxes, you have the option of either taking a standard deduction or itemizing deductions. The standard deduction lowers your income by one fixed amount and is a no-questions-asked reduction. The standard deduction went up from last year which could reduce your taxable income. Since the 2018 tax reform went into effect it's made it easier to just take the standard deduction.
If you choose to itemize your deductions, you'll provide a detailed list of eligible expenses. You will only itemize your taxes if your deductions add up to be more than the standard deduction. There are tons of possible deductions that can be itemized such as property taxes and mortgage interest (if you're a homeowner), medical expenses, state and local taxes, 401k contributions, etc.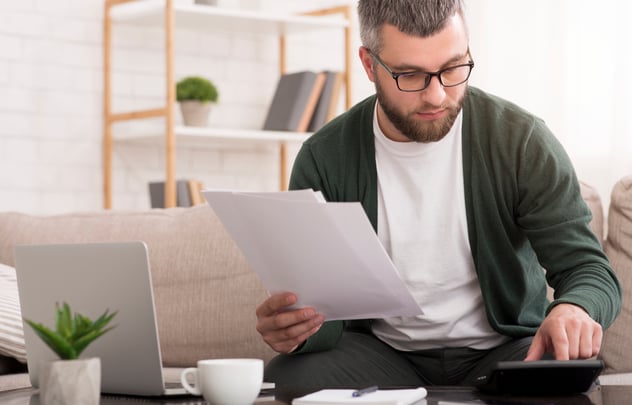 Student Loan Interest Deduction Stays the Same
According to the New York Federal Reserve, U.S. student loan debt is now about $1.56 trillion.* So, student loan interest is a hot topic for many when tax season rolls around. There are no changes to this deduction from the 2018 tax year to the 2019 tax year. You'll still be able to claim a student loan interest deduction of up to $2,500 for a single filer, head of household, or qualifying widow (or widower) with a modified adjusted gross income (MAGI) of less than $70,000. Once your MAGI reaches $85,000 you can't claim the deduction any longer.
If you're filing jointly, you can still deduct the maximum of $2,500 if your MAGI is less than $140,000 and will be phased out once your combined MAGI reaches $170,000. This deduction applies per tax return so if you're married and filing jointly, your deduction is still $2,500 even if both you and your spouse have individually qualified for a $2,500 each. Use the worksheet on page 90 of the 2019 Instructions for Form 1040 to help you figure out your MAGI and your student loan interest deduction.
Any public or private student loans can qualify as long as they go entirely toward qualified education expenses like:
Tuition and fees
Room and board
Books and class supplies
Other expenses, like transportation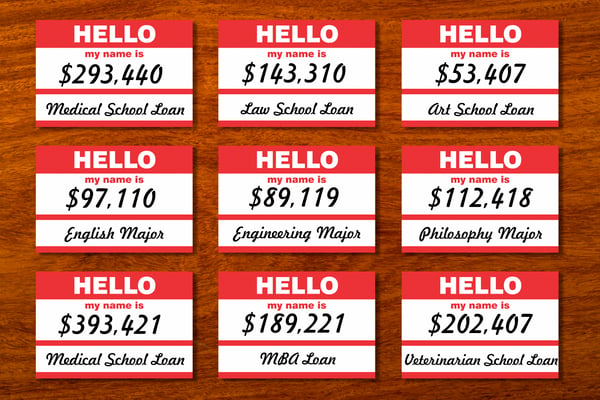 No Change in Capital Gains
The tax policy for capital gains remains unchanged. It still states that homeowners must live in their home for two out of the past five years to qualify for the exclusion. This continues to be good news for homeowners looking to list their home for sale on a more flexible timeline without the fear of paying a large amount in taxes.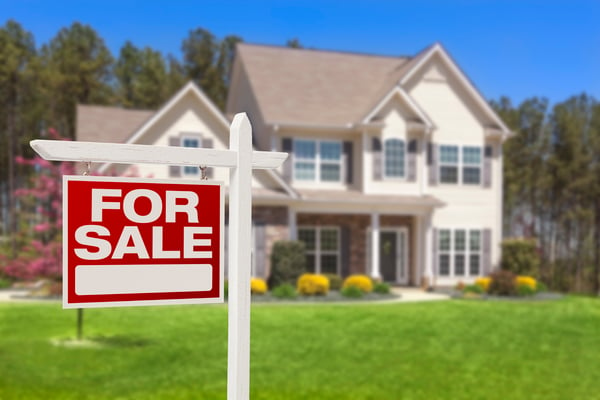 Mortgage Interest Deductions
Yes, mortgage interest is tax deductible. If you bought your home after December 15, 2017, you can deduct interest on the first $750,000 of the mortgage (or $375,000 if you're married and filing separately). Keep in mind, you'll need to itemize your tax return in order to get this deduction. If you use this deduction, you'll be able to reduce your taxable income by the amount of money you've paid toward your mortgage interest throughout 2019.
If you bought your home before the cut-off date of December 15, 2017 this change will likely not impact you. If you happened to refinance an existing home loan, the date of your original mortgage still applies.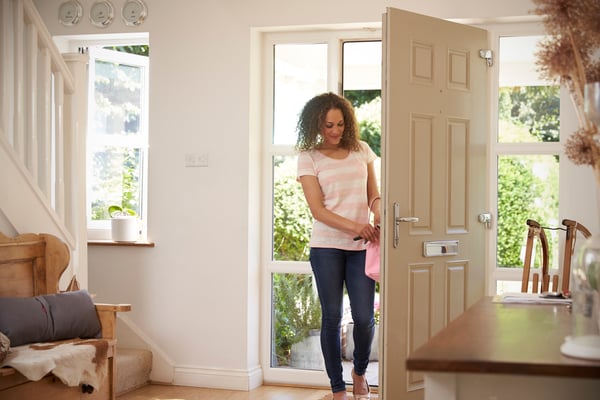 Property Taxes and the SALT Deduction
If you pay property tax on a home, car, ATV or UTV, boat, or other personal property you can count this toward your itemized deductions (but not if you are taking the standard deduction). Property taxes falls into the SALT deduction. SALT stands for State And Local Taxes. If you decide to itemize and take use the SALT deduction you are limited to $10,000 per year for your property tax and your sales/income tax. If you live in a high tax state (or own investment properties that you pay tax on, your ability to deduct these expenses will be limited.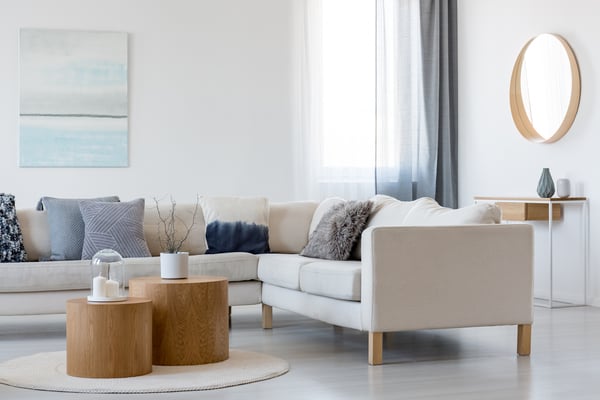 As you wrap up your taxes for the 2019 tax year, keep in mind that working with a tax professional can help you make sense of your unique tax situation. Churchill Mortgage doesn't give tax advice and we highly recommend you work with a tax specialist for additional guidance.
The information contained herein is general in nature and based on authorities that are subject to change. Churchill Mortgage guarantees neither the accuracy nor completeness of any information and is not responsible for any errors or omissions, or for results obtained by others as a result of reliance upon such information. Churchill Mortgage assumes no obligation to inform the reader of any changes in tax laws or other factors that could affect information contained herein. This publication does not, and is not intended to, provide legal, tax or accounting advice, and readers should consult their tax advisors concerning the application of tax laws to their particular situations.
Sources: