There are many ways to maximize your money during the home buying process. One of those ways is figuring out when it's the best time to buy a house.
Did you know that 8 of the 10 best days to buy a home are during the winter months? And 7 of those 10 are in December. It's true! According to an ATTOM Data Solutions analysis of more than 18 million single family home and condo sales over the past 5 years, you'll be able to save an average of up to 1.3% off the sales price by making a move at the right time.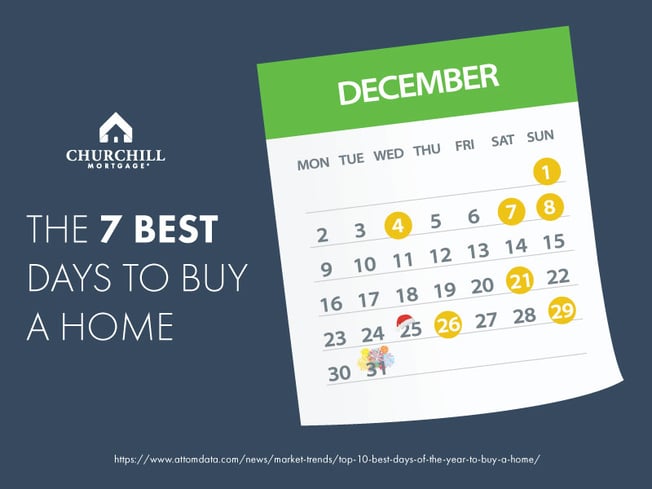 • December 1: Average Savings—$1,000
• December 4: Average Savings—$1,823
• December 7: Average Savings—$2,000
• December 8: Average Savings—$149
• December 21: Average Savings—$1,223
• December 26: Average Savings—$2,500
• December 29: Average Savings—$1,320
Everyone is looking for a real estate deal—the house that's the diamond in the rough with a discount so deep you'll talk about it for years to come! We get it, you want to save as much as you can of your hard-earned money. That's ultimately our goal for you too—to get a house you can afford and a loan you love.
With less buyers in the market during winter months, you're less likely to get caught up in a bidding war. Sellers are often more willing to negotiate because of the limited demand. Not to mention, it's cheaper to move, literally. Moving costs are often lower during this time due to low demand.

Seal the Deal Faster!
To help you seal the deal even faster, become a Churchill Certified Home Buyer. This allows you to do a bulk of leg work upfront, making the home buying process quick and smooth once you've found the right home. You'll have peace of mind that your funds will be approved once it's time to sign on the dotted line.
Home shopping in winter tends to provide both buyers and sellers with a lower-stress experience. You might have to bundle up to go home shopping, but it's worth it!
Interested in making a move during the winter months? Just reach out to one of our Home Loan Specialists.