Houses are moving faster than ever. It's almost impossible to find a home at asking price in hot market areas. Many people are paying well above asking price, and many more are unable to buy because of this. Now is a great time for a little refresher on how interest rates impact the housing market and how to help your clients understand the details.
Read on as we explore the world of interest rates and the impact they have on today's housing market.
Interest rates do a lot to drive the housing market.
To put it simply: The lower the rates, the more opportunities there are for people to buy a home. As a client looks for a home, the interest rate is going to impact how much house they can afford. A home buyer wants to be able to get as much as possible with their money, and a higher interest rate will limit what's available to them.
Interest rates can also be very beneficial when trying to save money on a home investment in the long run. Buying when rates are lower can save someone more money than buying when rates are higher. It's important for your clients to be aware that interest is not part of the cost of the home, but is money being spent in addition to the price of the home, and to then advocate for themselves as to what the best choice is financially.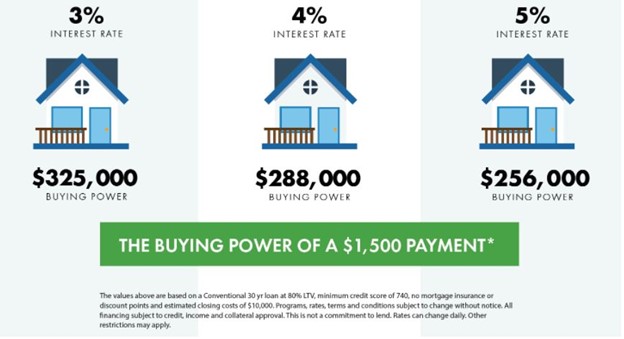 Another thing to note that isn't as widely talked about is the fact that when interest rates go up, it can cause inflation for materials used to build homes. The more it costs to build a home, the more a client will have to pay for the home.
Now that we've explained how interest rates can sway the housing market, let's showcase some questions clients may have, and simple ways to answer them.
Q: What is an interest rate?
A: An interest rate is the percentage of principal one is charged by a lender in order to borrow money.
Q: Why do some people have higher interest rates than others?
A: There are many factors at play when it comes to determining an interest rate. Here are a few examples of what lenders look at when determining an interest rate:
Debt-to-income (DTI) ratio: Monthly debt payments divided by gross monthly income will give a DTI ratio. This will include everything from credit cards, car loans, student loans, and current mortgage or rent, etc. A lower DTI may also help with securing a better interest rate on a home loan.
Credit score: Scores ranging from 300 to 850. Credit scores are mostly based on credit reports from the three credit bureaus (Experian, Equifax, and TransUnion). Typically, the higher the credit score, the lower the interest rate will be. Many people aim toward a zero credit score with the goal of being debt free. No matter what your score is, it's important to say on top of it!
Loan type: Different types of loans will impact interest rates because more money is being borrowed or for a longer period of time. Remember, the less a client borrows or the shorter the length of the loan, the lower the interest rate will be!
Q: What happens when interest rates go up?
A: In 2008 interest rates were at 6.03%, which was incredibly high and made the cost of a mortgage much higher than today. By 2016, rates had dropped to 3.65% which allowed people the ability to get more home for their money. July 2020 was the first time we saw a 30-year fixed rate mortgage at a rate lower than 3%, coming in at 2.65%! Of course, a lot of what we saw in 2020 was in response to the pandemic, and it's unrealistic to believe that rates wouldn't increase at all. These 30-year fixed interest rates have now hit over 3% in 2021. Some believe this will cool down the real estate market, but so far, that hasn't been the case with rates still at historic lows.
While homes are still selling quickly (and over asking price), the overall amount of mortgage applications have gone down. Lenders are attributing this to the shortage of homes available at a reasonable price, and rising interest prices for certain mortgages.
Q: What happens when interest rates go down?
A: This past year is a great example of what happens when interest rates go down. 2020 brought unprecedented change to the world, and the mortgage and real estate industries had no idea what to expect. So, to make sure homes were being purchased, interest rates went down while the economy was trending in different directions throughout the pandemic. This gave more people the opportunity to buy a home, keeping the economy going through uncertainty.
Q: What is the Federal Funds Rate? Does it control mortgage rates?
A: This is a question that comes up a lot and can be a bit confusing for everyone. The Federal Funds Rate is the rate at which banks (and other financial entities) lend out money to each other. This does NOT set mortgage rates for individuals, but it does inadvertently impact them. The more mortgage-backed securities (a bond or investment made up of a group of mortgages that banks sell to the government) the Fed has secured, the lower rates tend to be overall.
Again, individual interest rates are based on debt-to-income ratio, credit score, type of loan, down payment, and more. As we mentioned above, this is why we recommend Realtor's partner with Home Loan Specialist who spend time educating clients and walking them through the process of a mortgage from beginning to end. With so much information (and misinformation out there), it helps to have someone on your side who is devoted to helping clients understand their investment when it comes to buying a home.
As a Realtor, you are the lifeline to clients. They trust you to guide them well, and to help them understand every part of the home buying process, including the mortgage lending and interest rate process. It helps to have someone to guide you when it comes to home loans. At Churchill, we strive to not just be mortgage lenders, but to be educators for clients and Realtors alike. Let us be your lifeline, and the home loan lender your clients can trust.
Just reach out if you have any questions.