There's no way around it, Realtors. Social proof is the name of the game when it comes to growing your clientele and engaging leads. Don't get left behind in the digital market. Instead, use this handy guide to improve your social standing and success in real estate!
Social proof is the phenomenon (both psychological and social) of people using the influence of others to make their decisions. Basically, the behavior of some people can influence the behavior of many.
For real estate professionals, your business is built around people. Which means, you need more buyers to keep your business growing. It also means what people say about you matters. But first, you need people interested in what you have to offer. How do you make that happen?
You create your narrative and use your social proof to back it up.
Say your niche in the real estate world is helping first-time home buyers. The marketing narrative you would want to put out is that you are the expert in first-time home buying and can help buyers find a home that honors their wish list and fits their budget with as little stress as possible.
Now that you have your narrative, let's check out the types of social proof that will help you stand out from other agents and engage with first-time home buyers:
1. Testimonials and Reviews
Gather feedback from past clients and post on multiple channels, such as your website and social media, if possible. Ask past buyers to post on their social media, as well. This way you can reach your network of prospective customers and the people in your clients' lives. Showcasing positive reviews that back up your expertise can go a long way. Here's an example of a video testimonial:
If your client doesn't feel comfortable giving a testimonial, ask them to leave feedback in the form of a rating or review on a bigger site such as Google or Yelp. Some even allow people to do so anonymously if they don't want their information out in the public. Here's an example of a review for a Home Loan Specialist at Churchill Mortgage: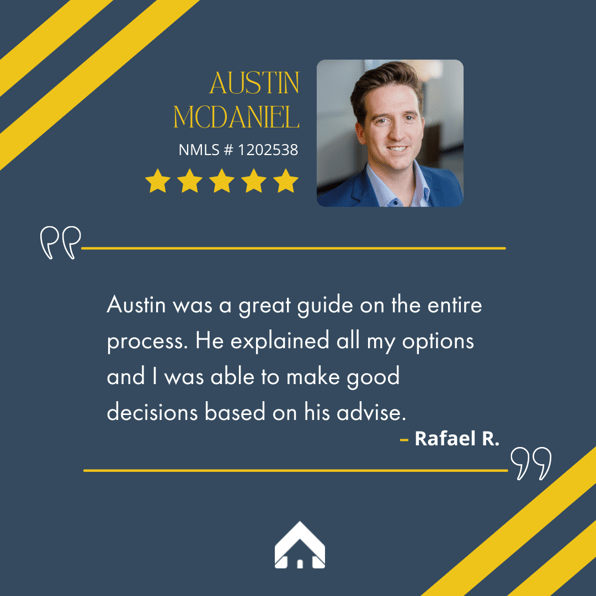 2. Share the Content of Your Clients
If you have a buyer who posts a picture of your closing gift to them, post it to your social media newsfeed and stories. Same goes for any photos of their new home or moving process (just remember not to include anything that could make your clients uncomfortable such as their full name and/or address).
This shows you're involved with them every step of the way. If you offered tips on how to make their move easier, add that to a blog on the same subject with a quote from them! Remember, every little bit can add up to big results.
3. Real Results
Speaking of results, showing off the outcome from your real estate business can garner a lot of attention. Here are a few great numbers to call out:
Number of buyers you've helped purchase a home
Average closing time (you can work with the lender for more details, if needed)
Number of clients who have referred someone to you
Number of homes you've negotiated under asking price
Number of "five-star" reviews from past clients
Awards won
Recognition received from people in your industry or market
Continued education and conferences you've attended
When you put out results-driven content on your website, blog, social media, or email it enhances your narrative and influence. It also adds value and trust to help position you as an expert in real estate.
4. Case Studies
Case Studies are one of the best ways to provide evidence to your network about your abilities as a real estate agent. You can walk your audience through a case study with a video or written content.
Just make sure you present the profile of your buyer, what was going on behind the scenes, and the successful solutions you presented to any challenges your buyer may have faced. Just remember to be discreet about any personal identifiable information about your clients. It's typically best to stick with their first name, last initial, and city instead of exact details.
5. Get Verified
While not necessary to expand your business, if you can be verified on platforms like Twitter, Facebook, or Instagram, it can offer a greater level of exposure and legitimacy. There are different requirements to get verified on the various social media outlets, so start with whichever is easiest and go from there.
6. Expert Stamp of Approval
Back up your stellar services with the stamp of approval from an industry expert. Having one of your peers or a third-party partner vouch for you can strengthen your narrative and expand your network. Ask for a kind word from people like mentors, other agents you've worked with (like a seller's agent), and loan officers that you partner with.
Social Proof Software and Tools
To help with social proof, many Realtors turn to online tools that can gather information and generally make life easier. These vary from public relations tools to online review software.
While choosing a software can be overwhelming, try not to stress! Look for a program that's cost effective, easy to use, and looks professional. Check out some options below:
HARO: This online tool helps connect thought and industry leaders with journalists who need sources for stories and reports. This can expand your public relations reach and get you mentions in different media outlets. Find more information here.
Trustpilot® for Business: This marketing tool shows reviews from customers. They value transparency and allow ratings up to five stars. You can also get a free basic plan. Learn more at their website.
Notifa: Engage customers and convert leads into clients with this online tool. You'll have access to customize your social proof notifications as well as over 30 widgets, plugins, and marketing tools. Check it out here.
Smash Balloon: This one is awesome if you use WordPress for your website. It allows you to easily plug social media into your site while showing off the great reviews clients leave! You can also flaunt any user-generated content such as pictures of buyers with their new home. Click here to learn more.
Boast: If you need help gathering testimonials, Boast can help. Clients can record video testimonials through an app that can be displayed on different social media platforms. You can also remind clients to add their text or video testimonial through simple emails. Here's a link to find out more.
With so many opportunities at your fingertips, marketing yourself through social proof has never been easier. Just remember, Rome wasn't built in a day, and neither is a successful Realtor.
Do your research on what will best serve your business and don't be afraid to try new things! Most importantly, partner with people who put the same value on client experience and success. If you're ready to take your real estate business to the next level, connect with a Home Loan Specialist at Churchill Mortgage!